From ready-built routes that reveal all of nature's best-kept secrets, to superior route planning and navigation tech that lets you decide what you want to discover, komoot makes it easy to explore more of the great outdoors—wherever and however you want.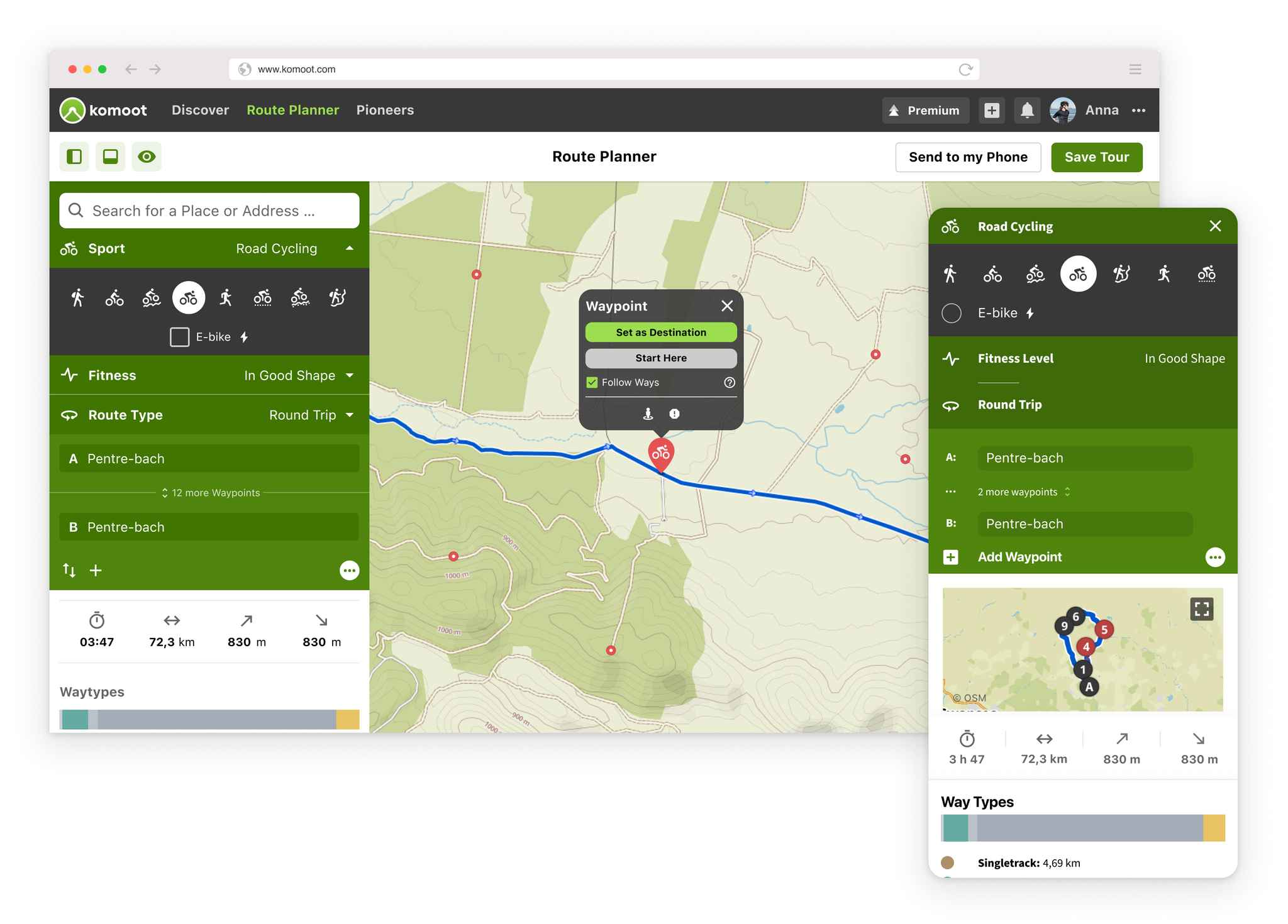 It Starts With the Right Inspiration
Wherever and however you choose to explore, komoot has a route for that. From hand-picked guides of the world's most epic outdoor experiences, to ready-built routes in your area that can be filtered by distance, difficulty and public transport links—komoot helps you find your perfect adventure, whether it's a mountain range away or in your own backyard.
Plan The Perfect Route
If you would rather plan your own adventure, komoot makes that easier, too. Whether you want smooth asphalt for your road bike, single tracks for your mountain bike or peaceful trails for your hikes, komoot generates sport-specific, topographic routing—tailor-made for your next outdoor experience. Simply customize each route to include whatever you want to see along the way, and view inch-by-inch surface and way type readings to ensure you always know what's coming—wherever your adventure takes you.
Komoot is the most intuitive route planning app on the market. It saves me time and allows me to more easily experience adventure.
Niko uses komoot to plan his bikepacking trips
With komoot I can easily adapt my hiking plans wherever I am, allowing me to easily explore more of the outdoors!
Maren uses komoot whenever she goes hiking
Every Outdoor Memory. One Story.
Do something awesome on your last trip? Tell the world about it. Share photographs and stories of your adventure's best moments, recommend your favorite spots to the komoot community, and surround yourself with like-minded adventurers—even when they're a mountain range away.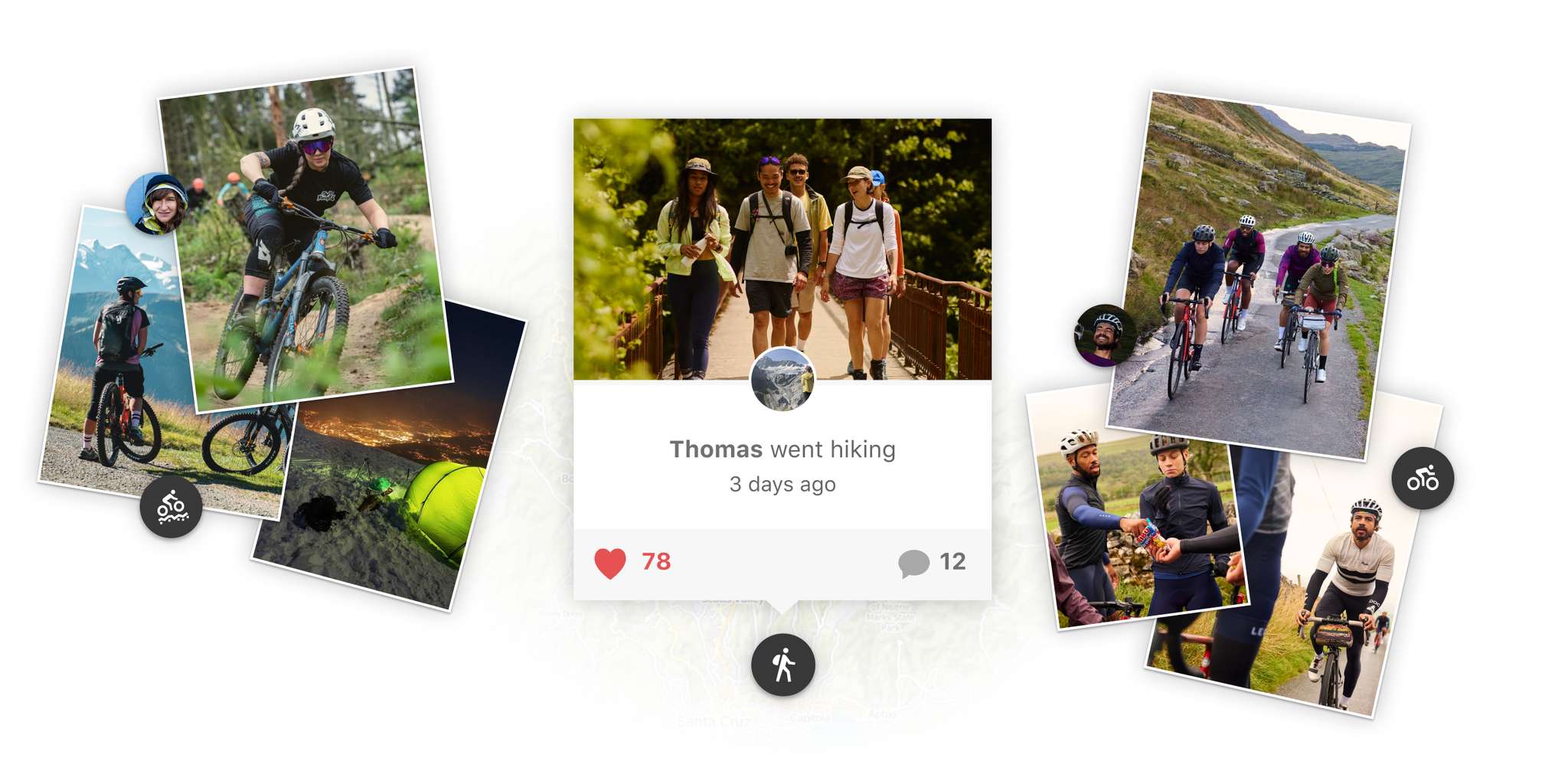 The best route planner out there. Simple as that.
Lee
Really good app on my phone that helps me plan and follow my route it all so keeps me in touch with friends and what's happening and ideas for some fantastic new walks. It's also fantastic when I travel to other countries and it shows me routes that other people have done.
Johnny1966
The app has opened up the countryside in which I have lived for 20 years. The convenient planning format and turn by turn directions is more convenient than using maps. As a result, I have learned more about my local area in 3 months than the previous 19.75 years. Of course, purchasing an eMTB 3 months ago has also helped!
This app inspired me to get outside & explore!
Explore More of the Great Outdoors
Everything You Need to Get Going
Explore Awesome Routes — Region by Region
Browse hiking, mountain biking, road cycling and bike touring routes in your local region and across the globe. And discover the perfect route for your next adventure in just a few clicks.
Discover Collections: Ready-Made Adventures
Browse the best outdoor-ready adventures; selected, curated and tested by komoot. Your own personal guide, they include everything from detailed routes to insider info — so you can just get out and go.
Hiking Collection by Alex Foxfield
Hiking Collection by Dan Hobson
Hiking Collection by Dan Hobson
Hiking Collection by Dan Hobson